Uživo / Rudari kidaju policijsku traku i sve bliže prilaze zgradi Vlade FBiH
4 min read
Radnici iz sedam rudnika u Federaciji Bosne i Hercegovine, koji posluju u okviru Elektroprivrede BiH, su se okupili ispred zgrade Vlade FBiH i protestom iskazuju nezadovoljstvo svojim položajem. Pratite uživo proteste na Klix.ba portalu.14:11 – Nakon sto su neko vrijeme mirno stajali, rudari su ponovo počeli zviždati i pozivati Nermina Džindića da izađe.
Primjetna je nervoza kod velikog broja njih budući da već tri sata čekaju da im se neko obrati. Oni se također povremeno približavaju zgradi vlade tako što svako malo pokidaju traku koju su postavili policajci i pomjere se ka naprijed.
Iz Vlade FBiH je stigla ponuda od ministra da će izaći vani, ali da se ne obraća javno, nego želi da razgovara sa predstavnicima rudara. Oni su to odbili poručivši mu da izađe bez pratnje specijalaca i jednostavno im objavi da su svi njihovi uslovi ispunjeni.
13:34 – U holu zgrade Vlade FBiH prisutan je veliki broj pripadnika specijalne policije. Nadležni su rudare ponovo pozvali unutra na pregovore, međutim oni to odbijaju i traže da resorni ministar izađe.
Navode kako nema razloga da ulaze na sastanak jer je do sada sve rečeno te da ostaju pri svom stavu da im se ispune svi zahtjevi.
13:26 – Jedan od rudara koji je iz Kaknja stigao u Sarajevo je i Fuad Musić koji je komentirao trenutnu poziciju rudara u FBiH.
"Dolazim iz Kaknja i rudar sam već 39 godina. Imam šestero djece, od toga četiri sina i dvije kćerke i niko od njih ne radi. Zaradim ukupno 1.000 KM od čega 600 KM ode na kredit i meni ostane 400 KM. Nemam ništa u životu", rekao je Musić.
13:03 – Trenutno rudari stoje ispred Vlade FBiH, slušaju muziku i čekaju reakciju nadležnih, odnosno obećanje da će njihovi zahtjevi biti ispunjeni.
Muzika i pravljenje buke su nezaobilazan dio svakih protesta rudara, a ovaj put imaju zanimljiv repertoar. Počeli su sa sevdalinkama, nakon čega su prešli uglavnom na rock sastave poput Bijelog Dugmeta, Dubioze Kolektiv, SARS-a.
12:35 Okupljanje rudara ispred zgrade Vlade FBiH snimili smo i iz zraka odakle se najbolje vidi brojnost protesta.
Sudeći po snimcima okupilo se nekoliko stotina, otprilike 500.
12:25 – Zulfo Kurtić iz rudnika Šikulje nam je kazao da su danas ovdje došli jer su morali.
"Ne može se više trpiti, nešto se mora riješiti", rekao je on, dok je njegov kolega dodao: "Mi smo došli ovdje da nam povećaju plaću za 20, 30 posto. Prije smo imali i topli obrok, sad nemamo. Prije si mogao sjesti, sad ne možeš ni sjesti".
Neki od njih navode i da neće otići ispred zgrade Vlade FBiH dok ne budu ispunjeni njihovi zahtjevi: "Ne idemo kući, ulazimo u ovu zgradu".
12:00 – Zatraženo je da predstavnik rudara Sinan Husić uđe u zgradu Vlade FBiH na pregovore, međutim rudari to nisu željeli dozvoliti.
Husić se obratio novinarima kako bi detaljno pojasnio njihove zahtjeve, a prisutni skandiraju njegovo ime.
11:45 – Kako se od meteža i buke nije mogao obratiti prisutnima, ministar Džindić se povukao u zgradu Vlade FBiH.
11:43 – Resorni ministar Džindić je izašao iz zgrade Vlade FBiH da se obrati prisutnima. Iz mase mu uzvikuju "lopove" i zvižde, a Džindić je među njih došao sa jakim policijskim osiguranjem, odnosno pripadnicima specijalne policijske jedinice.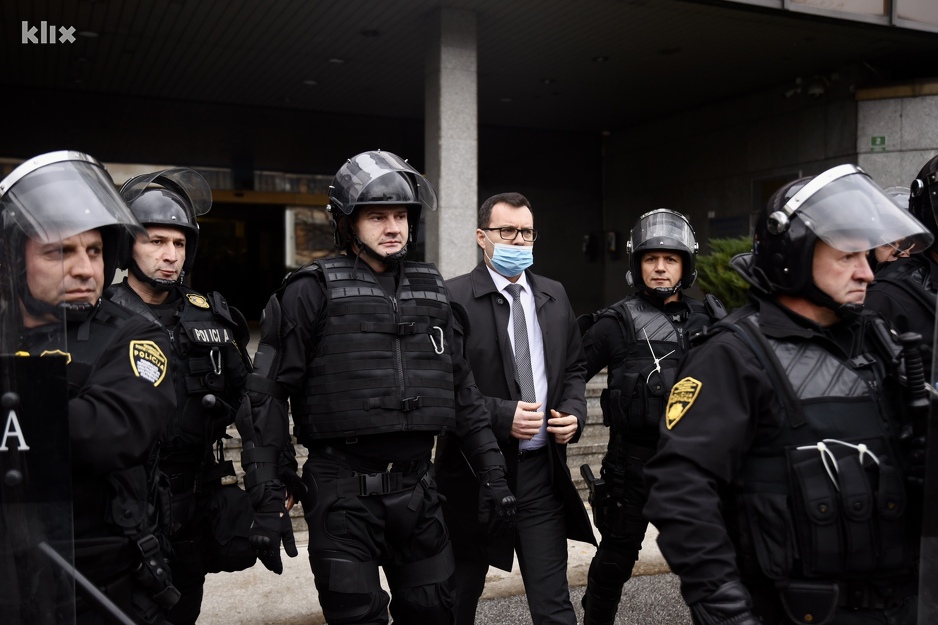 11:38 – Prisutni, osim što uzvikuju nadležnima da su lopovi, također pozivaju ministra energije, rudarstva i industrije Nermina Džindića da izađe iz zgrade Vlade FBiH.
11:32 – Simbolično, radnici rudnika u FBiH su došli sa šljemovima na glavama i sa simbolima srpa i čekića.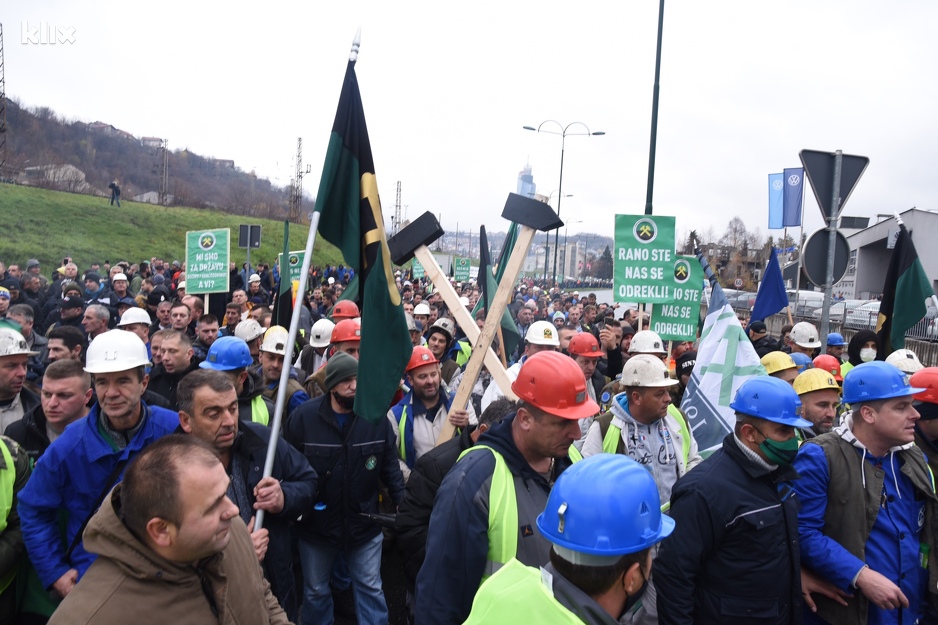 Na transparentima koje su ponijeli piše "Rano ste nas se odrekli", "Nas nije sramota, a vas?", "Mi smo za državu BiH, a vi" i drugo.
Na skupu se puštaju sevdalinke, a rudari mirno čekaju reakciju iz Vlade FBiH.
11:24 – Prisutnima se obraća predsjednik Samostalnog sindikata radnika rudnika FBiH Sinan Husić koji je poručio da rudari neće raditi ukoliko ne budu ispunjeni njihovi uslovi.
11:19 – Intonirana je himna Bosne i Hercegovine
Rudari su stigli na protest ispred Zgrade Vlade Federacije BiH, a saobraćaj je ulici Hamdije Čemerlića obustavljen. Oni su zapalili baklje prilikom čega su uzvikivali "lopovi".
Iz Samostalnog sindikata radnika rudnika FBiH, koji su organizatori današnjeg protesta, utvrdili su listu zahtjeva koje žele postići za radnike.
Ono što rudari traže je: Stavljanje van snage pravilnika o radu i radnom učinku u Rudniku uglja Kreka, ostavka direktora Elektroprivrede BiH i direktora rudnika uglja koji su u sastavu ovih preduzeća, uvezivanje radnog staža radnicima, utvrđivanje minimalne plate od 1.000 KM i drugo.
Također, jutros su rudari u sedam rudnika koncerna Elektroprivrede BiH donijeli odluku o pokretanju radničkog neposluha prekidom proizvodnje i na taj način također iskazuju svoj protest protiv jednostranih odluka nadležnih.v