"Sankcije EU Dodiku nikada se neće dogoditi"
2 min read
"Države članice EU su opet popustile pred Viktorom Orbanom i promijenile uslov glasanja".
Evropska unija produžila je za dvije godine važenje sankcionog mehanizma za Bosnu i Hercegovinu.
To je prvi put od kako postoji pravni okvir za restriktivne mjere EU, da je njegovo važenje produženo na ovaj vremenski period. Do sada je mehanizam produžavan godišnje.
Ta je izmjena potakla spekuliranja da li se i o kakvoj trgovini radilo?
Šta su oni koji su dobili dvogodišnje važenje sankcionog mehanizma morali dati?
Toby Vogel, jedan od osnivača nevladine think-tank organizacije Vijeće za demokratizaciju politike na svom je Twitter nalogu otkrio o čemu se radi.
"Države članice EU su opet popustile pred Viktorom Orbanom i promijenile uslov glasanja za sankcioniranje Dodika i drugih.
Umjesto kvalificirane većine, sada je nužan konsenzus.
To znači da se sankcije nikada neće dogoditi.
I onda se EU pita zašto niko ozbiljno ne shvata njenu politiku prema Balkanu", napisao je on.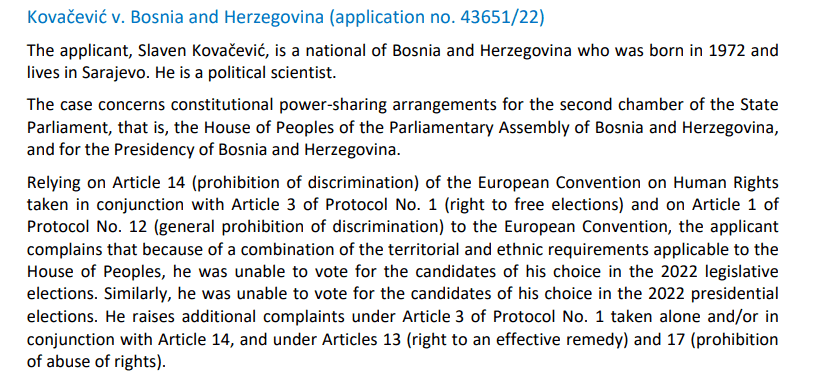 Uz to, prikačio je i zvaničnu odluku Vijeća Evropske unije u kojoj se vide detalji.
Mehanizam je, dakle, produžen za dvije godine, ali se o sankcijama mora odlučivati konsenzusom.
Prema dosadašnjoj praksi Vijeća EU, o sankcijama prema pojedinicima odlučivalo se jednoglasno.
Sankcije za projekte, novac koji EU plasira, nisu zahtijevale konsenzus.
Zato je i bilo moguće da Evropska komisija obustavi tri infrastrukturna projekta u entitetu Rs vrijedna 600 miliona eura.
Vogel je oštro kritizirao u svojim daljim objavama na Twitteru, poseno Njemačku i Holandiju, zašto su popustile pred Mađarskom.
"One članice, poput Njemačke i Holandije, koje tvrde da su za sankcije Dodiku i Čoviću treba da se srame. Nije bilo potrebe popuštati Orbanu po ovom pitanju", napisao je.
Vogel je podsjetio i na sjednicu Vanjskopolitičkog odbora (AFET) Evropskog parlamenta od 15. marta ove godine kada je raspravljano o situaciji u Bosni i Hercegovini.

"Ovo dolazi samo nekoliko dana nakon što je poslanička grupa Evropske narodne stranke (EPP) dala platformu bliskim Orbanovim saveznicima – Dodika i Čovića – koji su negatori genocida, islamofobi i secesionisti – da izbljuju svoju propagandu bez ikakve intervencije predsjednika AFET-a Davida Mcallistera.
A vi sami zaključujte", napisao je na kraju svojih objava Vogel. 
Preuzeto sa politicki.ba