Predstavnici RS-a su odbijali dogovor u Dejtonu, umjesto njih se potpisivao ministar iz Srbije
3 min read
Politički predstavnici Republike Srpske Nikola Koljević, a naročito Momčilo Krajišnik nisu bili oduševljeni tokom pregovora u Dejtonu prije 26 godina te su odbijali pristati na predložena rješenja.
Dejtonski sporazum u koji se danas zaklinju Milorad Dodik i njegova stranka i koji ga tumače samo kako njima odgovara nije bio prihvatljiva opcija tokom pregovora u Dejtonu. Zašto? Zato što je prije svega Krajišnik žalio za Sarajevom i nije ga želio prepustiti Federaciji BiH. Također mu je smetalo što postoji kopnena veza Sarajeva sa Goraždem.
Sukobi s Miloševićem
Izvještaji i dokumenti nastali prije 26 godina potvrđuju kako su politički predstavnici bosanskih Srba žestoko odbijali kompromise, a zbog toga su često tokom pregovora ulazili i u sukobe sa Slobodanom Miloševićem. Koliko god suludo zvučalo, prije dvije i po decenije na pregovorima u SAD-u glas razuma u ime srpske politike dolazio je od Slobodana Miloševića. Izvještaji govore da su predstavnici bosanskih Srba bili spremni i nastaviti borbu, jer im cilj očito nije bio entitet pa su razočarenje iskazivali i konfrontacijom s Miloševićem.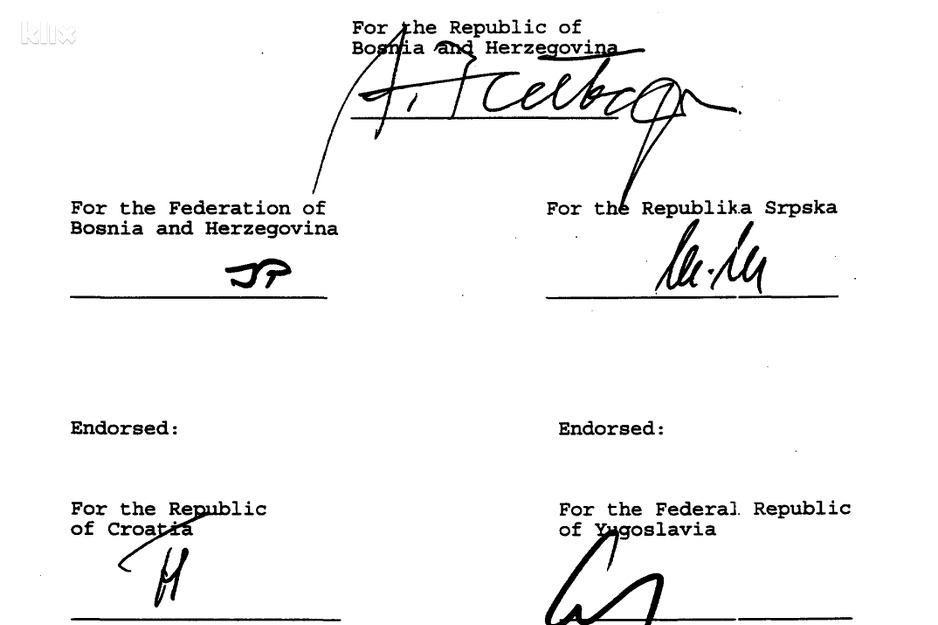 Dušan Stojanović je za AP samo dan nakon potpisivanja Dejtona pisao kako je Milošević doslovno iz kabineta izbacio predstavnike bosanskih Srba Krajišnika, Koljevića i Buhu, dok je razgovarano o konačnom nacrtu mirovnog sporazuma. Milošević je sporazum nazvao historijskim i rekao da to znači kraj rata. Ipak, nekoliko trenutaka nakon potpisa Krajišnik je kazao da su "mape loše, ucjenjujuće i servilne".
"Upozorili smo predsjednika Miloševića da niko nema pravo da potpisuje takav plan", rekao je Krajišnik. "Naša delegacija nije prihvatila plan i mi smo bili jednoglasni u vezi s tim", kazao je.
To je pokazalo da u srpskoj delegaciji u Dejtonu postoji veliki razdor.
Krajišnik se nije želio odreći Sarajeva
Nekoliko je razloga zašto se Krajišnik tako direktno protivio Miloševiću, naročito ako se zna da su bosanski Srbi i ranije prkosili Miloševiću i odbijali mirovne sporazume koje je podržavao tadašnji predsjednik SR Jugoslavije. Pojedini analitičari smatrali su da je vojska RS-a bila spremna nastaviti borbe i bez pomoći Miloševića.
"Niko nema pravo da se odrekne teritorija koje je naš narod krvlju branio. Milošević nije poštovao prvobitni dogovor o kartama koje su uključivale mnogo veće teritorije za Srbe", rekao je Krajišnik u Dejtonu.
Ipak, to nije mnogo utjecalo na konačni dogovor jer je ranije dogovoreno da će Milošević i tadašnja SR Jugoslavija potpisati sporazum.
Umjesto Krajišnika, Dejtonski sporazum u ime RS-a potpisao je tadašnji ministar vanjskih poslova SR Jugoslavije Milan Milutinović. Tek 14. decembra na parafiranju Dejtonskog sporazuma, pod pritiskom NATO-a i Srbije, Krajišnik je parafirao dokumente.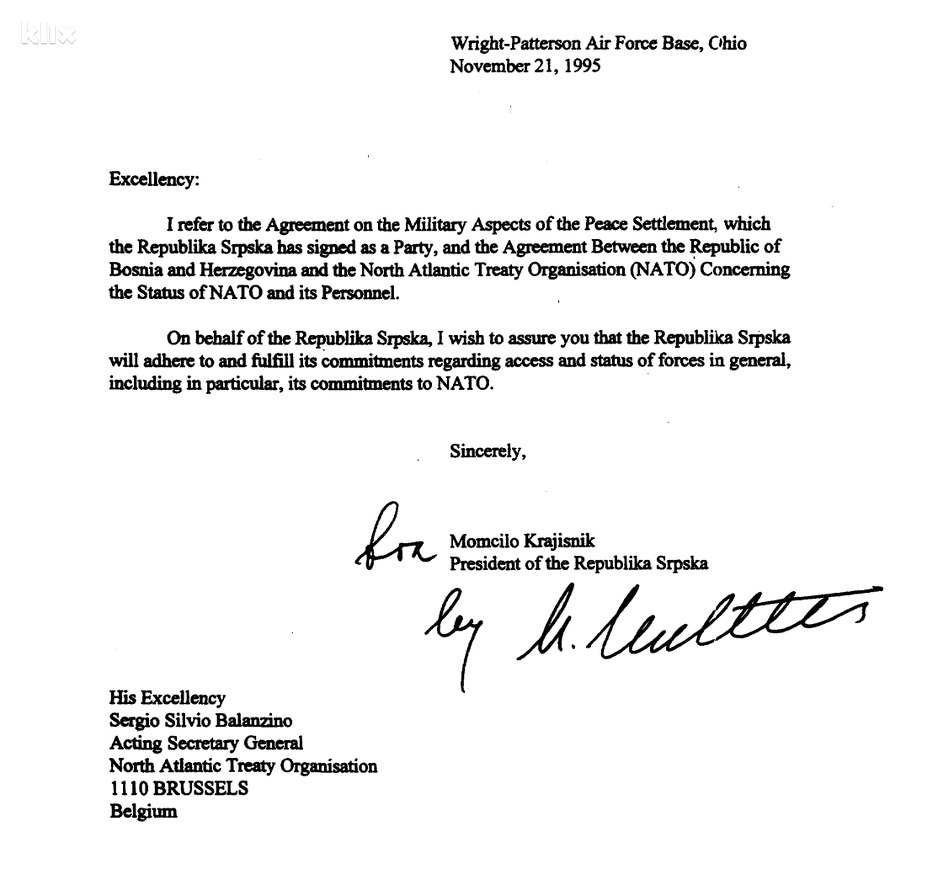 I tako je entitet RS od odbijanja svojih političkih predstavnika da čak i pristanu na Dejton došao u fazu da neradnim danom, i to nezakonito, slavi datum potpisa u SAD-u, pozivajući se na tzv. slovo Dejtona, kojim danas ucjenjuju cijelu državu pokrećući proceduru povlačenja iz državnih institucija pa čak i formiranjem vojske RS-a.
Delegaciju RS-a u Dejtonu činili su Momčilo Krajišnik kao predsjednik Skupštine, potpredsjednik Nikola Koljević i Aleksa Buha kao ministar vanjskih poslova.