EU sutra o sankcijama Dodiku
3 min read
Preneseno sa portala politicki.ba
Šefovi diplomatija država Unije započet će procedure o mogućem kažnjavanju političkog lidera bosanskih Srba i njegovih sljedbenika, uključujući i firme. Njemačka sve žustrije zahtijeva aktiviranje sankcionih mehanizama. 
Ministri vanjskih poslova 27 država Evropske unije sutra i prekosutra sastaju se u Briselu.
Kako je objavljeno, na dnevnom redu je i rasprava o situaciji na zapadnom Balkanu.
U okviru te tačke, na inicijativu Njemačke, počet će i razgovori o uvođenju sankcija Miloradu Dodiku i njegovim sljedbenicima, kako političkim, tako i onima koji ga finansiraju.
Ne očekuju se nikakve formalne odluke sutra, pa ni ta koja se tiče o sankcija.
O kažnjavanju Dodika, zbog njegovih secesionističkih aktivnosti već se vodi sve užarenija debata unutar institucija EU i država članica.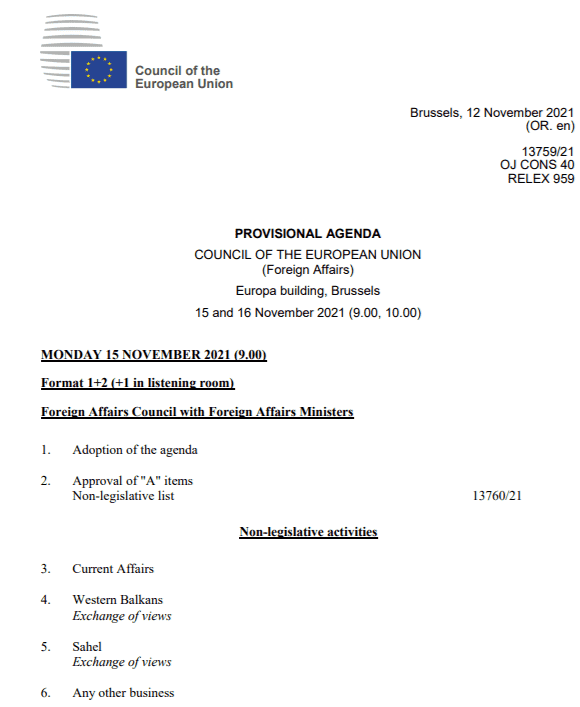 Prema medijskim izvještajima, ne postoji jedinstvo između 27 šefova diplomatija po ovom pitanju.
Već smo jutros objavili tvrdnje britanskog lista The Times koji navodi da se sankcijama protivi i šef diplomatske službe – EEAS – Josep Borrell.
Prema ranijim medijskim navodima, za sankcije nisu Mađarska, Slovenija, Grčka (i Kipar, koji u svemu svakako prati Grčku).
Sve žešće kritike na račun Zapada, a posebno EU, koje se mogu pročitati u zapadnim – posebno njemačkim – medijima, indikativne su.
S jedne strane, one otkrivaju očigledno – da nema konsenzusa po tom pitanju, ali i rezultiraju pritiscima na evropske birokrate i zvaničnike da se posvete tom pitanju.
Jedinstva nema ni kada su u pitanju sankcije Bjelorusiji i Rusiji, ali su one tu i na evropskim "crnim listama" je sve više zvaničnika i firmi iz te dvije države.
Iako sankcije Minsku i Moskvi svakodnevno EU koštaju milione i milione eura, one idu i dobijaju na zamahu.
U konačnici, nije pitanje da ili ne sankcije EU Dodiku. Pitanje je kada i u kom obimu i s kojim efektima.
Njemačka sve snažnije lobira za sankcije. S njom su u "timu" i neke od vodećih evropskih država, poput Holandije i Italije. Iako se u kuloarima navodi da se Francuska "klima" zbog svoje izborne kampanje, teško je očekivati da zvanični Pariz u konačnici bude protiv.
U kuloarima se spekulira(lo) da je i Hrvatska suzdržana. No, Zagreb neće riskirati, suočen s sve oštrijim stavovima Berlina.
Stoga, sutra ne treba očekivati nikakav "spektakl". Iako "spektakl" jeste sam po sebi da EU pokreće (konačno) mehanizme sankcioniranja pojedinaca i firmi u BiH.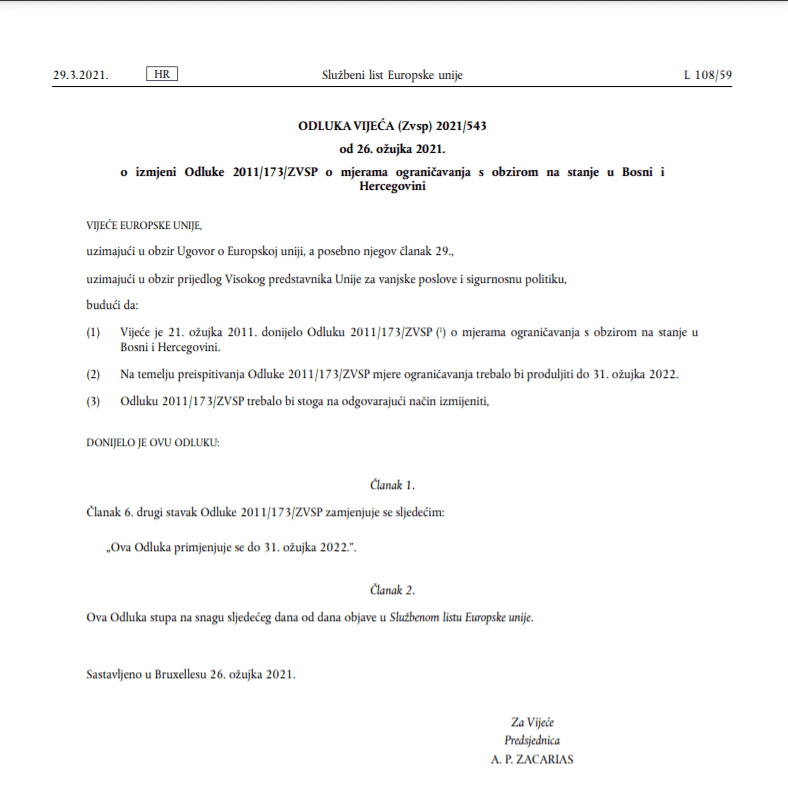 Okvir za to odavno postoji i na "crnoj listi" EU već ima osoba iz BiH. Riječ je, uglavnom, o pojedincima koje je za ratne zločine sudio ili osudio Tribunal u Hagu.
Početkom ove godine, EU je rutinski produžila trajanje sankcija za te osobe za još godinu dana – do marta 2022.
Sjedinjene Američke Države najavljuju uvođenje oštrih sankcija Dodiku i njegovim sljedbenicima.
Gabriel Escobar, zamjenik pomoćnika državnog sekretara SAD nedavno je u nekoliko navrata potvrdio da će sankcije obuhvatiti ličnosti, ali i firme koje ih podržavaju.
Velika Britanija objavila je da će slijediti SAD i na tom putu.
Britanski će ministar odbrane na samitu NATO-a krajem ovog mjeseca inicirati i razgovore o formiranju "stabilizirajućih snaga" Alijanse koje bi bile poslate u BiH, ukoliko bude potrebno.